What the heck is a link-in-bio tool? And do I need one?  Yes, you do!  But first, an explanation is in order.
When you complete a social media profile page, you'll notice that some have the limit of being able to include only one link.  The question becomes, what link is best to add?  Should you link to your website? Your LinkedIn profile? A free report you offer? Or something else?
With link in bio tools, you don't have to choose.  A link in bio tool is a web or mobile application that allows you to expand on the limits of social media profile pages – most famously, Instagram. An example is https://linktr.ee . Inside linktr.ee, you can add and label multiple links.  Then just add the linktr.ee link to your Instagram profile, and voila, all of your links are displayed.
Here's what my linktr.ee looks like, and you can see for yourself at https://linktr.ee/sandileyva.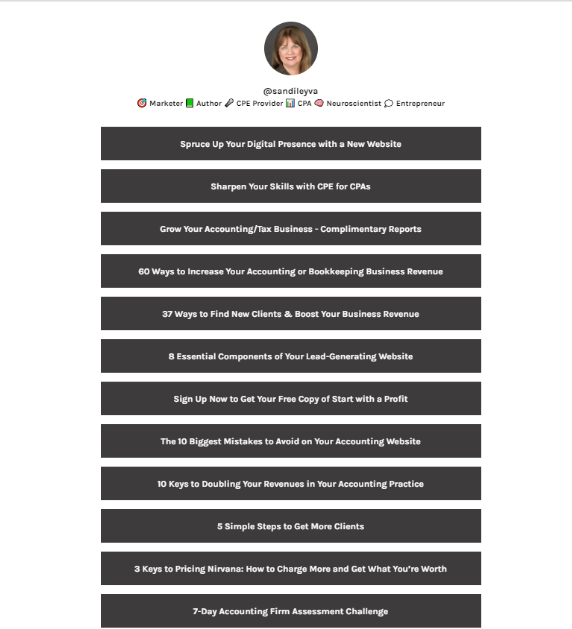 Linktr.ee is not the only app you can use to create these micro landing pages.  Here are some alternatives.
Most of these are free with potential upgrades to more features.
What links should you list on your link in bio tool?  Here are some ideas:
Your website home page (of course!)
Key website subpages, such as your contact info or About page
Landing pages with offers
Free report opt-in pages
Newsletter sign-up pages
Social accounts, including

LinkedIn profile
LinkedIn Company page
Facebook business page
Twitter profile
Instagram profile
Clubhouse profile
TikTok profile
Pinterest account

Google My Business listing
A link in bio tool is not just for Instagram use.  You can add it to your email signature file to replace multiple links so that it looks less cluttered. It can even go on your letterhead, other social accounts, and all of your marketing materials.
Add a link in bio tool to your marketing arsenal, and when you do, send us your customized URL so we can add it to your website.