Welcome, Thank You, and Your Next Step
On behalf of the entire Accelerator Digital Media team, we are excited to have you as a client and can't wait to work on your new website!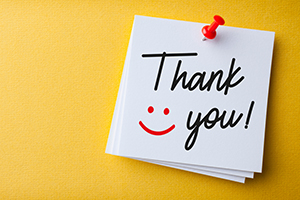 Thank you for choosing Accelerator Digital Media for your website needs. We'll work hard to earn and keep your trust. Not only will we respond quickly to your updates and questions, we'll also be working hard behind the scenes for you:
Keeping your site backed up
Updating your software with the latest versions
Maximizing uptime
Adding new features
Informing you of news, and
Monitoring your SEO rankings (Pro and Platinum).
Let's Get Your New Website Live ASAP
We promise we'll do most of the work, but we do need three things from you before we can get started.
1. Choose Your Preferred Theme
Choosing your theme is mostly personal preference, so go here and let us know which number you want.
https://acceleratorwebsites.com/services/websites/
Prefer that we make a suggestion? Contact us at support@acceleratordigitalmedia.com
2. Tell Us Your Domain Name
If you have an existing website, you'll most likely be replacing it. We'll grab the data that you own off your old site (it's magic!) and transfer it to your new site. We don't even need your old webmaster's info in most cases.
3. Send Us Your Logo or Company Name
Do you have a logo? Great; send us any file format you have (the higher quality, the better) and we'll use it on your new site.
Don't have a logo? No worries; all packages include a text logo design to get you up and running fast. All we need is your company name. Let us know if you have color or font preferences.
Send these items in an email to support@acceleratordigitalmedia.com
Need to talk to us? Set up a complimentary consult at support@acceleratordigitalmedia.com
That's it to get started. We'll send you a link to your draft website a day or two after we get your three items. You'll approve the draft, and then we can "go live" with your brand new beautiful site!
Whitelist Us and Check Your Email
In the next few days, we'll send you a series of emails that will help you get the most out of your new website.
Connect with Us
Join our Facebook Group: https://www.facebook.com/groups/acceleratordigitalmedia We'd love to have you in our private group with other like-minded accounting professionals.
Connect with us on LinkedIn: https://www.linkedin.com/showcase/accelerator-digital-media
Follow us on Twitter: https://twitter.com/AcceleratorMktg
Have a Friend Who Needs a Website?
We'd love to have your referrals. Please feel free to share our name and contact info with any of your friends or small business clients that need a website (Yes! We do more than just accounting sites). Thanks!
Contact Us
Don't forget to send us your items by emailing us at support@acceleratordigitalmedia.com.