SEO for Accountants, CPAs, EAs,
Bookkeepers, and QuickBooks Consultants
The biggest error we see when new clients come to us with their sites that are not working is that there is no SEO. In a way, SEO is invisible to the user, but the bottom-line effect certainly isn't.
After your website, SEO is the next most important thing to invest in regarding your digital presence.
Every one of our packages has at least basic search engine optimization updates, including title tags, speed optimization, AMP, and structured markup. I don't think any other digital marketer that specializes in our industry and offers the low-cost packages we do includes those advanced tech features.
Ranking in search results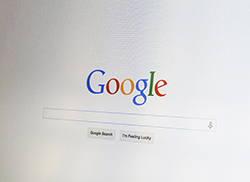 For Pro and higher packages, our layouts are pre-search-engine-optimized with standard accounting and tax keywords. We then "handcraft" keywords in critical areas for your business.
We also run your site through SEO technical and ranking audits to find more ways to boost your site. We track your status monthly (weekly really), and we'll meet with you periodically to show you the behind-the-scenes stats. The more feedback we can get from you on the type and volume of leads you're getting, the more we can tweak your site to meet your goals.
Our accountability to you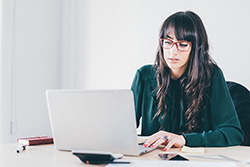 For Pro and higher packages, you get reports of the SEO stats we're tracking so you can see what's happening with your site traffic and rankings. Hey, numbers are right up your alley, right?
For Platinum and higher packages, you get reports of listings stats so you can see where your leads are coming from.
You also have full access to your cpanel, where you can see raw visitor traffic stats and more if you want to.
For all packages, we'll connect Google Analytics, Google Webmaster Tools (Search Console), and/or Facebook pixels to your site. Just send us your UA number and/or your pixel code and/or invite support@acceleratordigitalmedia.com, and we'll get you set up.
Our super-power is SEO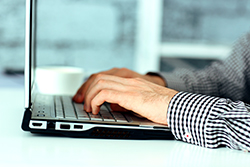 Our super-power is SEO. We've been doing it for 20 years across a number of highly competitive industries such as consulting, weight loss, education, and accounting.
We only offer it on client websites. SEO is not an add-on; it's a bake-it-in-from-the-start kind of thing, and we're pretty serious about getting it right for you.
All of our Platinum and up sites rank on the first page for at least one of their search terms. And we'll tell you a little insider secret: the more you spend on all of the digital options (social, paid ads, newsletter, etc) we have, the more time we spend on SEO for you.
Got more questions? Schedule a time on our calendar or submit a support request form and we'll get on it.
Search Engine Optimization
Organic, on-the-page SEO is our specialty and is included in every Web Pro and Platinum package as well as all Paid Search Ads packages at no extra charge.
We've been at it for 15 years and have achieved great results for clients. All of our Platinum sites are regularly on Page One of Google for their search terms due to our hard work behind the scenes.
Our first example is one of our Platinum sites; you can see they hold the top three organic positions.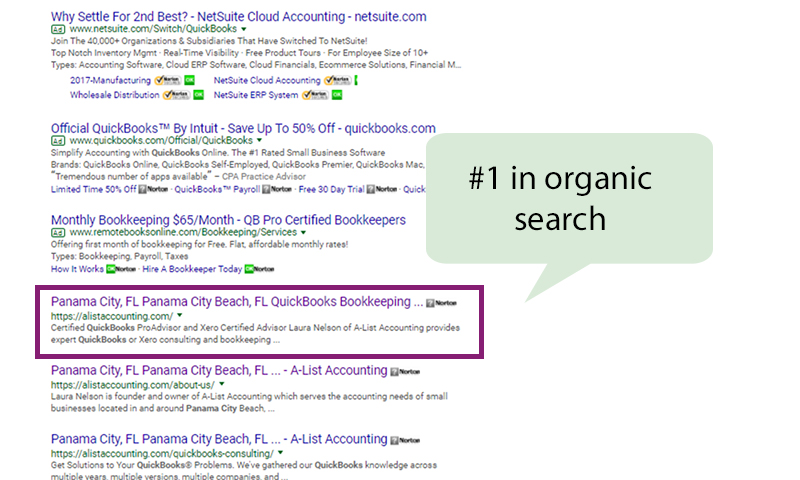 Next you'll find examples of clients who have landed in the elusive and exciting "Map Pack." That means their sites have been ranked in the top three of the Google Maps insert on the search results page. This search "real estate" is valuable and gives your business even more exposure to prospects.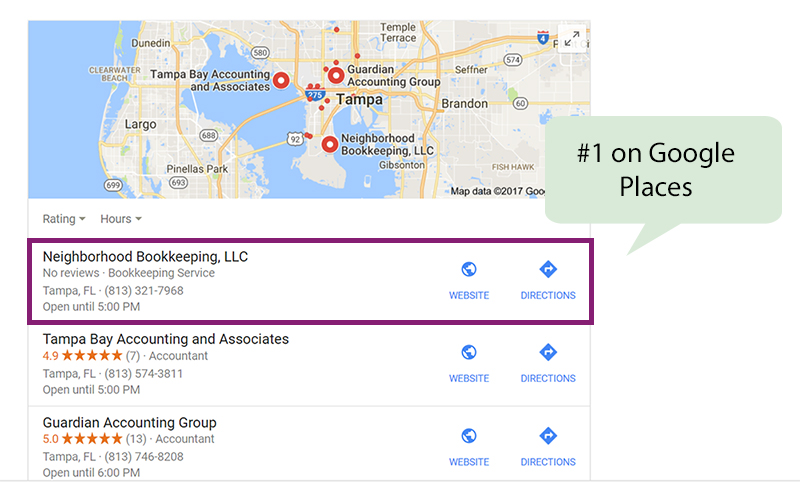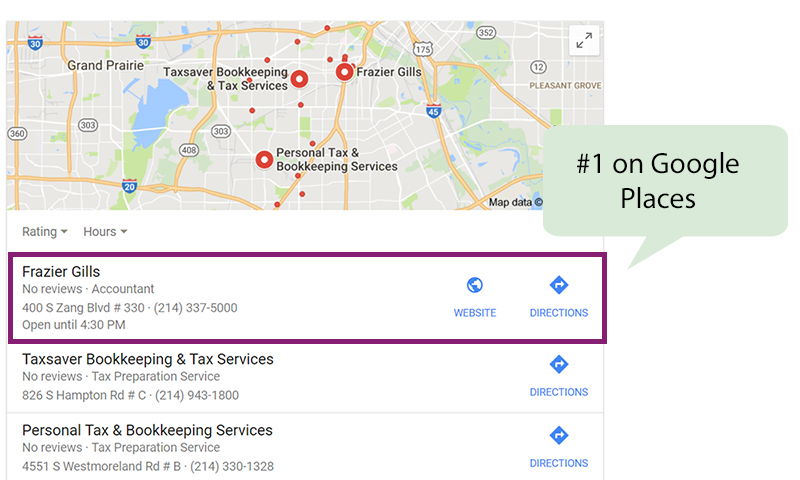 This client has earned the number one search spot via her Intuit QuickBooks ProAdvisor profile and the number two spot via her website. She has also earned the right column by claiming and optimizing her Google for Business listing.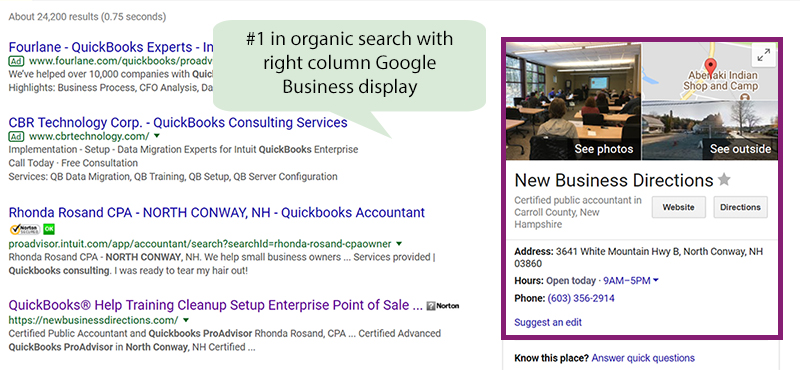 This next client has a relatively new domain and still has earned places number three and four on page one of search, after a job site, not a competitor.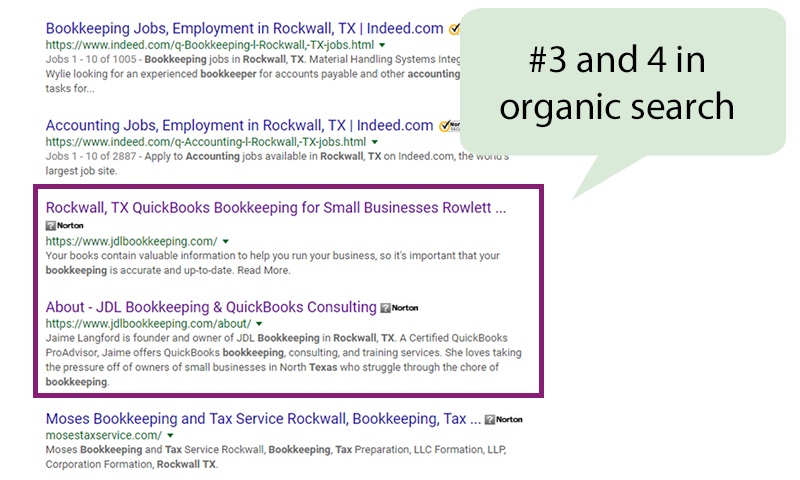 This example shows our client ranking at number four after Yelp takes up the first three places, but ranking before the job site Indeed.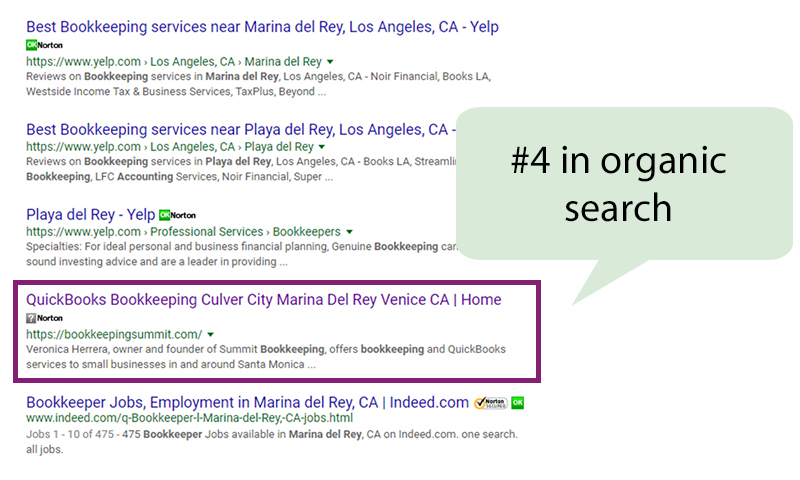 Don't give in to the emails you'll get from people promising to place you on Page One. No one can promise that. And don't pay extra to SEO businesses until you've talked with us. We see lots of bad jobs out there (especially with paid ad management) and can at least help to educate you on what's possible and what's not.
While we can optimize a site we haven't built, we don't offer that service anymore. Our web package prices are so low that it makes better sense and is more cost-effective for you to purchase them in lieu of hiring us to optimize your site from the ground up.
Legal Disclaimer: Every effort has been made to accurately represent our program and its potential. The testimonials and examples used are not intended to guarantee that anyone will achieve the same or similar results. These results are not an average. Each individual's success depends on his or her background, dedication, desire and motivation. As with any business endeavor, there is an inherent risk of loss of capital and there is no guarantee that you will earn any money.