Websites for Accountants, CPAs, EAs,
Bookkeepers, and QuickBooks Consultants
We know you because we are you
Before Accelerator Websites became digital marketers for professionals in the public accounting space, owner Sandi Leyva, CPA, managed her own accounting practice.  She knows firsthand what it takes to build and grow a client base in accounting services, and her knowledge is the core of how Accelerator Websites serves its clients every day.
Keep your digital foundation strong
If your website is out of date, it's likely costing you lost business you'll never see.  You need to look like a tech-savvy business, and if your website doesn't look modern, your firm won't either.  We feel that an investment in your website – your core digital centerpiece – is essential and should be your first digital marketing priority.  Don't spend on social or anything else until your website is optimum!
Screaming-fast hardware and the most popular software on the Internet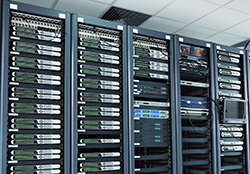 Our current solutions have been chosen with 20 years of internet wisdom and experience.
We've chosen WordPress websites as our software core. With 39.5 percent of all sites on the web using WordPress, you get stability, ample talent, and no proprietary platform. We give you the keys to your kingdom; you have full access to edit and change your site at any time.
Our platforms keeps your WordPress site fast, secure, and performing perfectly. Your sites will experience the highest quality of performance and security with additional features like automated nightly backup. Our infrastructure is optimized to give your WordPress site maximum uptime and insanely fast page speeds.
Mobile-ready and secure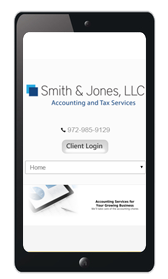 A site that's mobile-ready as well as secure with SSL https: instead of http: are musts, not nice-to-have's any more.  All of our sites, even the Starter packages, have both of these features.
Content-rich, and even "pretty"
All packages also include professionally written web pages for services, industries or verticals, and products. We write a generic About page for Starter and Premium and custom-write your bio and staff bios for Pro and higher packages. Your Contact page, footer, header, and colors are customized in all packages.
All pages include graphics and in the Pro and higher packages, you can choose your own graphics. The funny part is we often use pictures of demographically-correct business owners while accountants want them replaced with calculators and charts.  We feel business owners prefer people, but we'll do what you want with the graphic selection.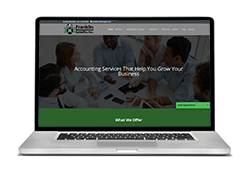 You can even write your own home page headline or choose from ours.
For Premium and up packages, you have access to a Content library of articles and social media posts you can use on your own on your website blog and on your social media platforms. There are over 100 articles on small business topics and a few on tax (since they all need to be re-written now) and about 100 social media posts too.  Do-it-yourselfers will be in heaven with this new feature, and training videos are included.


Bells and whistles
You're cloud-savvy, so your site should be too. We can add any or all of the following to your site; just send us the items or links when you sign up; no extra charge.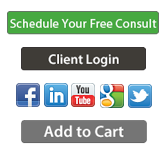 Schedule an Appointment button: Automate appointment-setting by setting up a calendar scheduling software and sending us your personalized link. We're ScheduleOnce Certified Partners and can get you fixed up with them or you can do it yourself.
Client Logins: We can create a button or a page for all the places your clients need to log in: payroll, QuickBooks Online, your client portal. While we don't offer a client portal (no competent tech person would ever put a secure client portal on a web server anyway), we recommend Sharefile who can get you setup with a HIPAA-compliant SOC-2 certified cloud account. Email us for our contact at Sharefile.
Social Media Buttons: We can add links to LinkedIn, Facebook, Twitter, Google+, Instagram, YouTube, Pinterest, and any other social platform on your website.
Shopping Cart or PayPal: If you sell products or items at fixed prices, we can add your cart links to your site. If you have more than 10 items, there might be an extra charge.
Credibility builders galore
What catches the eye of prospects is credibility, and all of you have it in spades. We love bragging about you. Tell us what we can brag about and watch your popularity soar!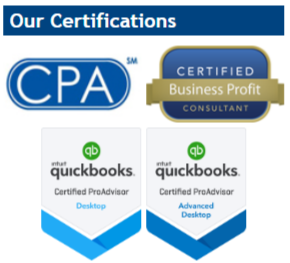 Certification Badges: Tell us what you've earned and we'll get it posted!
Membership Logos: We love "join-ers;" let us know what you're a member of so we can grab the colorful logo and add it to your site.
Testimonials and reviews: Your prospects love them, and social media has made them essential. We'll make it easy for you to collect them and send them to us. We'll also provide links to review sites to make it easy for your clients to leave you reviews.
Don't worry if you don't have all this on day one. We'll add it when you get it. No extra charge. No set up fee. Everything is included in your monthly price.
Got more questions? Schedule a time on our calendar or submit a support request and we'll get on it.