Accountants, CPAs, Bookkeepers,
Tax Preparers, and Accounting Software Consultants

Need an Accounting Website That Gets You Business?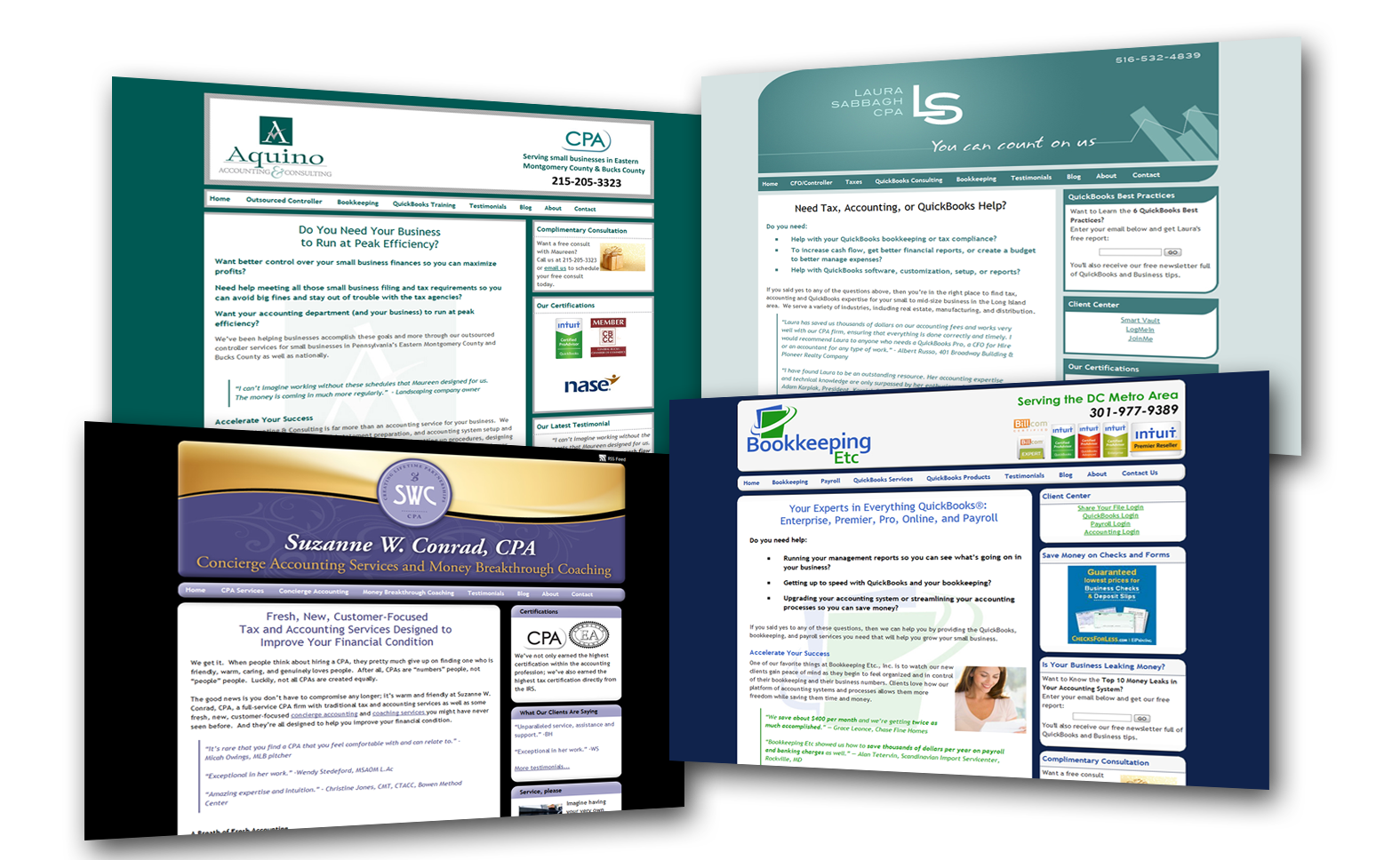 We specialize in accounting websites for CPAs, accountants, and QuickBooks consultants with small practices.
"With my new website built by Sandi's team, I've gotten more leads in the last 4 weeks than I have in 4 months with my old one. I've also been able to save money and cut back significantly on AdWords." Joel Berman, CPA http://jebtops.com/

The income from the new clients has already more than paid for the price of the new site. Not only are you and your team professional and a delight to work with, but you certainly deliver!" Gregg Frank, PB, JOHNS CREEK Professional Bookkeeping http://johnscreekpb.com/

"Just this past tax season I acquired several new higher end clients who came to me through my site resulting in thousands of dollars in increased revenue. Sandi Smith is the way to go." Suzanne Conrad, Owner, Suzanne W. Conrad, CPA http://www.suzanneconradcpa.com

I am getting more traffic, more calls, and many compliments from my clients! Thank you Sandi!" Michele L. Etzel, CPA, EA http://www.baysideaccountingservices.com/
Please visit our testimonials pages so you can see how we are to work with. Please also visit our portfolio pages to see an idea of what we've done for accountants and other clients.
Complimentary Consult
Claim your 20-minute complimentary consult by emailing support@sandismith.com or 972-803-5868.
---
Legal Disclaimer: Every effort has been made to accurately represent our program and its potential. The testimonials and examples used are not intended to guarantee that anyone will achieve the same or similar results. These results are not an average. Each individual's success depends on his or her background, dedication, desire and motivation. As with any business endeavor, there is an inherent risk of loss of capital and there is no guarantee that you will earn any money.