Position Zero is a term related to search engine optimization. In Google, when you enter keywords to search for something, a search results page is displayed. The search results page contains many components to it.  Position Zero is a term that describes the very top of the search results page.  Some lucky website is featured at the top of some pages, and this is in addition to the typical list of 10 web pages plus the ads that are on each results page.
A good but somewhat elusive goal of marketers is to be able to win the position zero ranking for their sites.
You may have seen the box of information – also called a featured snippet – that displays a paragraph of text, a list of answers, or a table.  Here is an example where we have gotten one of our articles to rank in Position Zero: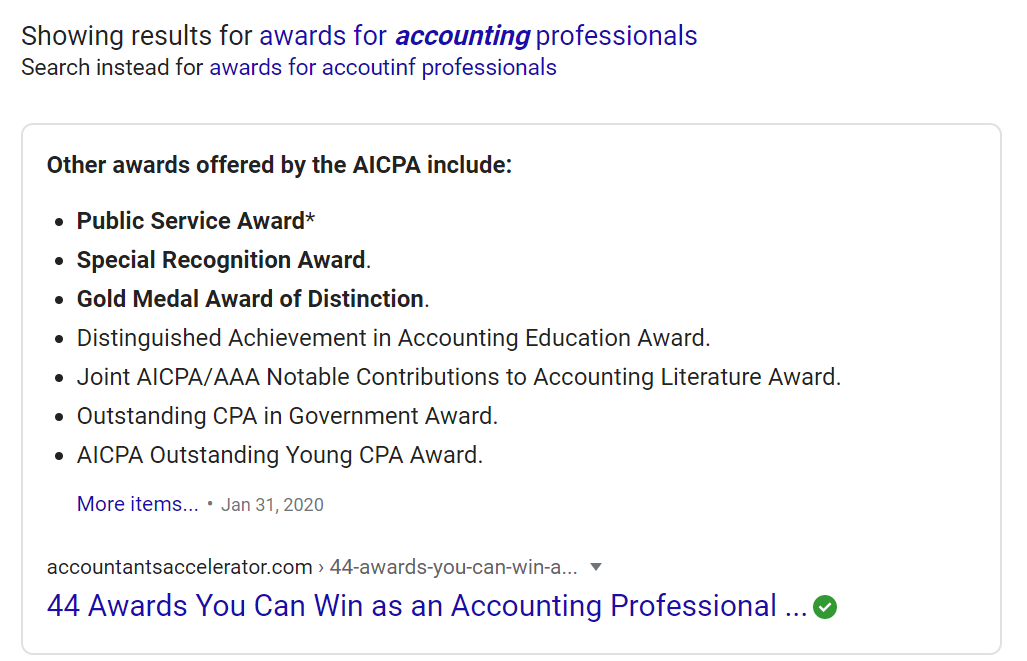 You may be able to see it live if you enter "Awards for Accounting Professionals."  It then links to this article:  https://accountantsaccelerator.com/44-awards-you-can-win-as-an-accounting-professional/
Position Zero is great to get when it is connected to the services or products you offer.  It can give your brand more visibility and it can generate many, many leads.  So how do you get to position zero yourself?
It's pretty easy, but it does take a bit of work.  You already know that great content is the key to ranking well in SEO, and Position Zero is no exception.  A 2,000-word article that answers a key question in a list or steps is ideal for targeting Position Zero opportunities.  The topic should be sage, accurate advice that lasts and won't go out of vogue tomorrow.  Cover the topic thoroughly, showing both your breadth and depth of knowledge.  Include background to help further explain and clarify your topic. And format your article in a way that makes it easy for robots to pick out your key points and place them into the snippet format.
Google results pages have shown remarkable variety over the years. There are many more places to rank depending on the search term:
The Google Map Pack
People Also Ask page, where questions are featured and your answer might get listed
On the right as a Google My Business listing or Google panel
In a Video box featuring videos on the topic
Recipes
Lifestyles ideas
Shopping boxes
See more places
Images
Top Stories
Top Sights
Searches related to
And so many more
Next time you search for something, study the format of the search results page to look for opportunities in your own business.
Whenever you can get your site to rank in multiple places on the search results page, it's a good thing.  If you're ready to do the work, you can get more search real estate by creating content that Google would love to show its searchers.